ECUADOR NEWS MAGAZINE
News,Quito,Expats,Photos,USA,Blogs,Galapagos,Videos,Tourism etc.
Pages

Saturday, April 19, 2014
Good Friday in Quito
Ecuador news magazine - About 300,000 people attended the Procession of Jesús del Gran poder today in Quito's Centro Historico, some to watch, others to participate.
At 12pm noon, the hour in which Pontius Pilot condemned Jesus to death, the procession begins from the San Francisco Church, and returns 3 hours later, the hour in which Jesus was crucified.
more >>
Friday, April 18, 2014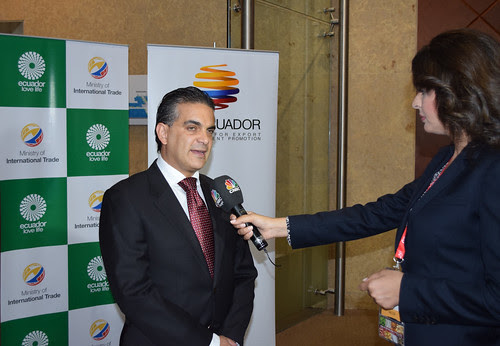 Francisco Rivadeneira
Ecuador news magazine - Quito, Apr 18 (Prensa Latina) The Foreign Trade Minister, Francisco Rivadeneira, affirmed that Ecuador lives the golden time of commercial relations with China, during a meeting with a delegation of the Asian country that visits this Andean nation.
Although is true that there is Chinese investment in this country, this can be increased considerably, considered the leader in the context of a meeting with the Chinese Council for the Promotion of International Trade, according to a statement from the body he runs.